Injector Connectors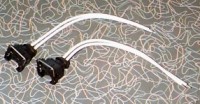 Fits stock injectors on Starion, Z car, BMW, Toyota, Etc. Bosch, Nippondenso, Siemens, Lucas injectors.
Square plug only. Will not fit the Round or Oval plugs found on many Toyota and Mazda vehicles.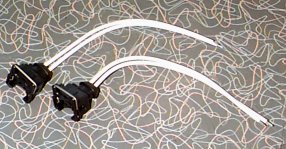 These little pieces cause more problems that anyone can imagine. A bad or corroded connection at the injector will cause mis-firing, poor acceleration, and occasionally the car will not even start.

Our connectors use the quick release style clip so that you do not have to pick the little "U" shaped clip out to remove them. Connectors comes with about 6" of wire so that you can cut yours back to a good clean place in the wire before soldering these on.