JE CUSTOM MADE Forged Pistons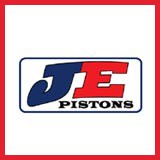 JE CUSTOM MADE Forged Pistons
Scroll down for all the JE Custom Piston order listings...

Forget the imitators and low price, low quality imposters. JE is the finest forged piston made for your Street or Race engine...Normally aspirated, Turbo, Supercharged, NOS..You name it and Top-End and JE can supply you a piston to fit your needs.
We are THE source for ALL BMW Forged pistons.
There are very few pistons that we cannot custom make for you either from our huge database of engine specifications or using a sample you provide to us.
The only things we DO NOT make are Diesel and 2 Stroke pistons.
Our Minimum bore diamter is 54.229mm with a .550 wrist pin for custom forged applications.
Here is a breif list of some of the custom applications we have made pistons for. These are in addition to the common engines listed on our main JE part # listing.

Audi 4,5 V6 and V8
Alfa most models 4, 5 Cyl 20V, and 6 cyl
BMW All Models 4,6,8 and 12 Cyl
Chevrolet and GM Imports as well as all Domestic V6 and V8 engine
Cosworth (Most engines and combinations)
Fiat (Most of the popular 4 cyl Turbo and N/A engines and the 5 Cylinder Turbo)
Ferrari 308, 365 GT 2+2, Etc.
Ford X-Flow
Lancia 2.0 16V
Maserati Misc
Mercedes 190E 2.3 16 and many 6 and 8 cylinders engines like the M119, etc (We usually require samples for Mercedes engines)
Nissan CA18DET, SR20, QR25, VG33, all RB's and all "L", "A", "R" and "U" series
Nissan Skyline GTR Pistons and Rods
Opel Calibra C20 Turbo and Normally aspirated
Peugeot 16V and Misc Turbo and Non-Turbo, 406, XU10, Etc
Porsche All AirCooled Flat 4 and Flat 6, Watercooled 924, 944, etc.
Renault Misc (We usually require samples for Renault engines)
Suzuki Swift Turbo and Cappucino, Alto Works F6A
Toyota 4EFTE, Vios, 3VZE, 3TC, Etc
Volvo B18 and B204, B23T, and 5 Cyl.
VW All Watercooled and Air Cooled
Click Here for the JE Pistons Custom Piston Quote Form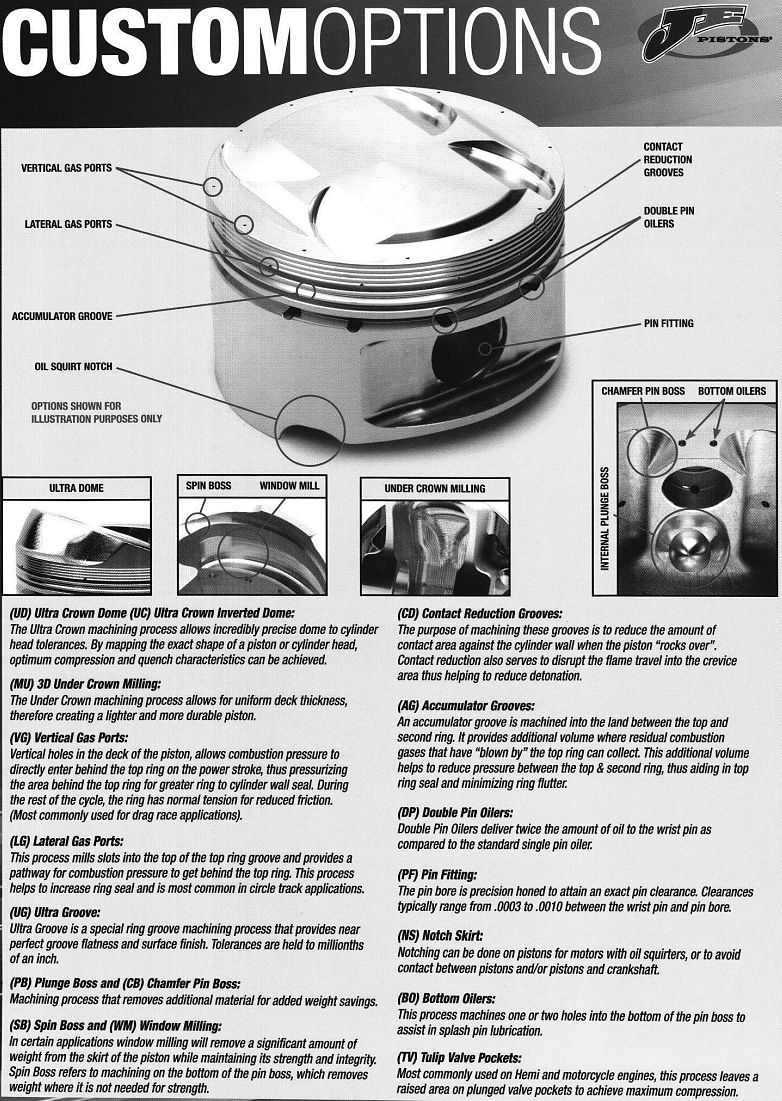 JE Pistons are the finest quality aftermarket forged pistons available. The special High Silicon 2618 aircraft alloy . allows much tighter Piston-To-Wall clearances ( Typically .0035-.0045 )than all the other manufactures. This means a quiet street engine that does not need excessive temperatures to seal.
We offer and optional ($40.00 per piston at the time they are ordered or $49 per piston after they have been completed) High Heat Coating on Piston tops and Skirts. (A MUST HAVE for all NOS and High Boost Turbo engines..)You must specify this when ordering. It usually adds 7-10 days to the delivery time of a piston set.
As one of JE's biggest distributors we have very good order time on all custom sets...Our orders get priority and that means you will get your parts faster....Typically a custom set from us takes 3-4 weeks and sometimes even faster....If your piston has to be made from a sample it may take a little longer....Rush and Expedited orders are available for those engine emergencies. There is an extra fee for Rush orders but sometimes you just need them faster....

Don't see what you need? We will build a custom set of pistons for any application. Just click here to send us a