Ignition System Upgrades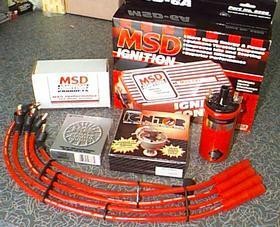 2002 IGNITION SYSTEMS AND CONVERSIONS
Ultimate Spark Package for 2002
ALL THE TRICK CARBS, HEADERS, HIGH COMPRESSION PISTONS, CAMSHAFTS, ETC. DO YOU NO GOOD IF YOU CAN'T BURN THE FUEL MIXTURE IN THE CYLINDER. FOLLOWING ARE THE DIFFERENT IGNITION OPTIONS WE OFFER AND RECOMMEND.
Why Tii distributors ? Because they have a much more aggressive advance curve than the standard unit. The BMW combustion chamber lends itself to tremendous amounts of spark advance at low rpm, which translates into lots of low speed punch, unfortunately it also raises the hydrocarbons at smog time.
If you are stuck using a standard vacuum advance distributor for financial or Smog reasons then just disconnect and plug the hose to the vacuum unit and advance the distributor to approx 14-16 degress advance at 900-1000 RPM and test drive the car. If you do not have a detonation problem then you are okay. I guarantee you will feel a lot more response from the engine and most likely better gas mileage. Be sure and put it back to original for smog time and back off the timing a bit at a time if it detonates.
Our Ultimate Spark Package has continued to be a very popular way to get the most streetable spark output in an affordable package. It is an easy to install complete spark system that will transform your cold starting (Especially in a Tii.) and improve your gas mileage. A must for dual carb equipped cars or engines running in the 5000+ RPM range on the track or street.
If you want true state of the art ignition we offer the D.I.S. distributorless direct fire ignition systems. Eliminate the distributor forever in one easy to bolt on and run igntion system.
Components and conversions: