Genuine Redline Weber Downdraft and Sidedraft conversion kits For Cars and Trucks by Vehicle.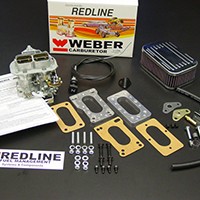 URGENT: Please take a moment to read
We ONLY Sell Genuine Made in Spain Weber Carbs. You will find cheap Carbs and kits online on eBay and other sellers..We can assure you these ARE NOT Genuine Made in Spain Carbs. They are cheap Chinese copies that will not run properly and you will receive no support from the places that sell them. Prices that seem to good to be True are just that..They will take your money and leave you hanging with a useless product. Do yourself a huge favor and buy a Genuine product with a real Warranty and Support...A few extra dollars will pay you back many more in a good running vehicle and a Carb that will be supported and last for years to come. No we will not sell a Genuine Made in Spain Weber for the same price as the horrible Chinese copies.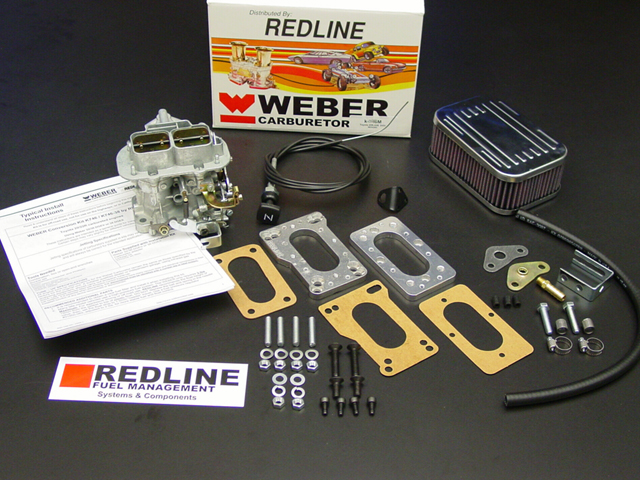 All Genuine Weber Weber kits are complete with NEW Properly Baseline jetted Weber Carb, Adapter Plate to stock intake manifold,
complete linkage kit and Chrome Air Filter or Stock Air Filter adapter as required. Instructions and needed hardware.


Lambo Countach 6 x DCOE Conversion
A Fun and Interesting project


BMW M10 Single Sidedraft Weber DCOE Kits are available
IN STOCK TO SHIP NOW !!!!
Click for Info and Ordering
FREE UPS GROUND SHIPPING* On all complete conversions or orders of 2 or more carbs or any parts order over $200.00
*In the lower 48 States...Alaska, Hawaii, and International orders pay standard shipping rates.....