Turbocharger Upgrades,Components & Packages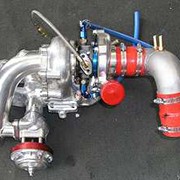 Turbochargers, Intercoolers, Boost Controls, Compressor Bypass valves: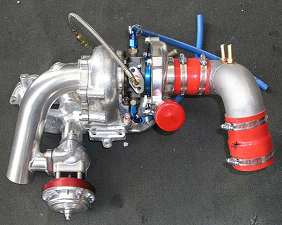 We offer a variety of Turbo upgrades for the StarQuest. We always get asked What is the best Turbo to go with ? That answer depends on what you want out of the car when you are done. Here are the Turbo upgrades we offer and their features. Be sure and be honest about what you want from the car when making the Turbo choice and you will not be disappointed. The Turbos listed here will perform as stated so if you really know what you want from the car you will be happy. We do not rebuild Stock Starion Turbos. It is a waste of time and the failure rate is too high. It is a fine thing to do to sell the car or just to patch it up for a short time, but it will fail again. Any time a Turbo is replaced you need to replace the oil feed line with it. We offer stock replacement oil lines ($22.95) as well as Steel Braided lines which are cleanable and re-usable. They also flow more oil than the stock unit for longer life. ($50.00)
We no longer do upgrades or rebuilding to existing Mitsubishi Turbos The cores are very rarely
good and failure rate is very high We only supply NEW turbos .

NOTE: 2014
Everyone with one of these cars knows it has become very difficult to get new Bolt-On Turbocharges these days. Rebuilding stock units is a terrible idea and rarely works out well. The proper parts are just not available to rebuild these old stock units properly which just results in a total waste of money...To address this we have come with a great cost effective option for putting a new High Quality Performance Turbo on your stock or modified Starion / Conquest.

We are not going to use any of the Cheap Chinese Knock Off Turbos that have no Warranty. These are new Garrett or Turbonetics units with full Warranties and everyting needed to bolt them on...