Engine Building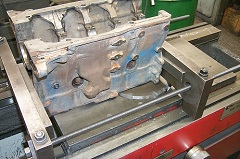 Top-End Performance is a Full Service Machine Shop and Engine Builder....
We specialize in Vintage and Late model BMW , Nissan, Toyota , Mercedes and Porsche. We also work on any other Japanese, European and Domestic engines including Ferrari, Subaru, ALFA, etc.

We offer a Full range of services for Street and Track.
Block Boring
Head work including Porting and Flowing
Engine Balancing
Crank Grinding
Cam Grinding
Rod Rebuilding and Race Preparation
Flywheel Lightening

Click Here and you can see plenty of pics of our engine build projects and the components we use.

We will be greatly expanding this section with more info and our machine shop price list inthe near future.
In the mean time please Contact Us with any questions or inquiries about your Engine Building Project.