Clutch and Driveline components and upgrades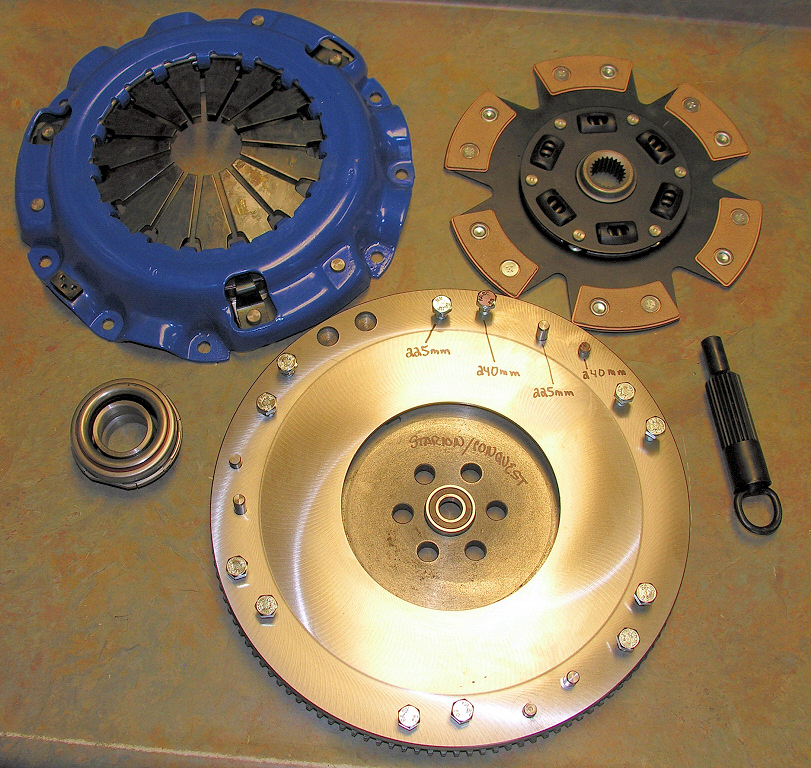 Clutch and Flywheel:
You can make lots of HP but if the clutch slips it does no good. We offer our own Pro-Grip Race clutches for street and race. All clutches are sold as complete assemblies with Plate, Disc, Release brg, and Pilot brg. Discs are available individually. Available for both the early (225mm) and late (240mm) flywheels.
We also sell standard replacement clutch kits for every day cars without unusual power demands.
Stock replacement clutch. $225.00 ORDER NOW

Performance Street Clutch kit 240mm or 225mm. For Stock to 250 HP street cars.$275 ORDER NOW

Light Duty Race and Ultra-Performance Street Clutch with Puck Disc 240mm or 225mm
For 250-325 HP Street and Strip cars.$365 ORDER NOW

Heavy Duty Race Clutch with Puck Disc. 240mm ONLY
For 300+ HP Weekend only street and Drag / Road Race cars. Good to 450 HP $475 ORDER NOW
Lightened stock flywheels: Click Here for Details and Pricing
This is the best combination of weight and inertia. A super lightweight flywheel will rev up faster but it will not maintain boost between shifts and can cause surging at a steady light throttle. We lighten, surface, step and zero balance your stock flywheel. We can usually get 10-11 lbs. Off and still maintain plenty of strength.
New Flywheel bolts (6) required. $9.00 ea ORDER NOW

New and Rebuilt Original Eqipment Replacement parts for all Import Cars and Trucks
LOW Price guarantee and FREE shipping...