Starion - Conquest Front and Rear Strut Tower Braces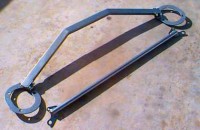 Another new and exclusive product from Top-End Performance for the Starion - Conquest line.
Front and rear strut tower braces that actually work to stiffen your chassis. These units will provide good looks and superior chassis stiffness for street or race use.....