Carrillo Con Rods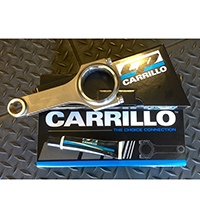 Top-End Performance is an AUTHORIZED WAREHOUSE DISTRIBUTOR For Carrillo Rods
Other Lines we offer that will likely be needed for your Engine Project...
Carrillo Connecting rods were founded by Fred Carrillo in 1963. Fred approached the challenges of manufacturing with the idea of no compromise. He knew the never ending quest for speed would require the same desire in component manufacturing. This Carrillo philosophy is as evident today as it was at Carrillo's conception in 1963.
Quality and pride go hand-in-hand at CP-Carrillo. Manufacturing a CP-Carrillo rod is much more than cutting a forging, meeting production goals and shipping deadlines. The design of connecting rods has evolved into a collaboration of skilled specialists. Every connecting rod is a symphony of precision: material specialist, forging precision, production craftsman, design engineers and engine specialists each contribute know-how and artistry.