BMW 2002-320i M10 engine single sidedraft dcoe conversion kits. BACK IN STOCK AGAIN !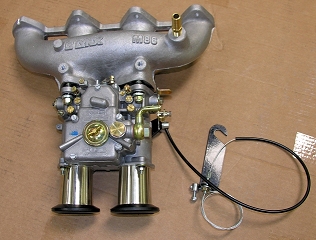 2002, 320i, 318i M10 BMW Single Sidedraft Weber Kit
BMW 2002 Single Sidedraft kits are BACK and SHIPPING
Order Now



Complete Single Sidedraft M10 Weber Kit
with NEW Properly Jetted 45 DCOE Weber with Air Horns, TEP Exclusive Lynx Ramflo Manifold, Cable Linkage Kit, Anti-Vibe mounts, Manifold to head gaskets and Brake Booster Fitting
$1195 Order Now


Complete Intake Manifold and Linkage Kit ONLY less Weber DCOE Carb
Manifold, Linkage, Booster Fitting, Manfold Gaskets, Anti-Vibe Mounts
$695 Order Now

Check these out. They are always being updated and offer the current best prices on our most popular parts.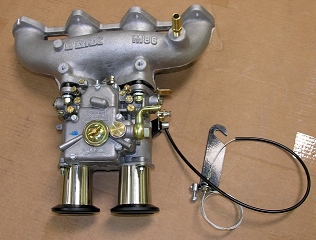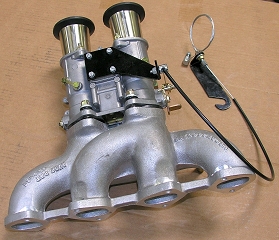 Click above for larger images

* Lynx Ramflo Cross Flow Intake manifold...




* This is the ONLY single sidedraft manifold that works....




* Unique cross ram design ensures proper fuel delivey to all cylinders..




* Performance that rivals Dual Sidedrafts on stock or mildly modified engines.




* Outstanding performance and throttle response...




* No Brake Booster Interference




* Great for Blow Through Turbo applications


---------------------------------------------------------------------------

Optional:

Water bypass kit $112 Order Now
Contains a new metal water line, new heater return hose, reducer hose, assorted plugs for the engine block and water manifold, plus all needed hose clamps and washers.

Proper Electric Fuel pump and mechanical pump block off plate.... $92.00 Order Now
This is an important option for race use...The stock mechanical pump will not deliver the proper amount of fuel to keep the flot bowl full under hard acceleration and racing conditions. ls also a must for converting Fuel Injected cars to Carb system...320i, 318i, Tii...
Cable Linkage kit Retrofit: $129.00 Order Now
This is Supplied in all new kits and Manifolds. This is only if you have an existing manifold that does not have linkage
This is the complete cable linkage kit to replace the Mechanical Linkage for the Single Sidedraft application.
Cable and housing, Mounting Brackets for Carb and Pedal. Swivels and cable anchors, throttle arm.
-------------------------------------------------------------------------
Air Filter Options:


Remember, the kit comes with open Air Horns Only. Select from the choice below for Air Filters.
Open Stacks Only
as supplied in kit

No charge.

Ramflo Style Filter

Snap On Stack Screens

Clamp on Uni-Filters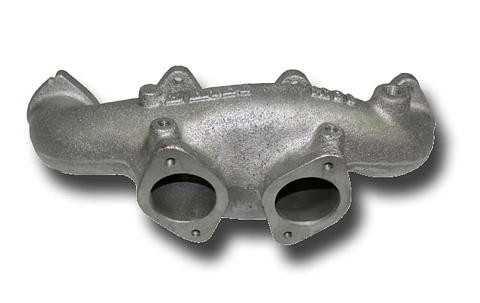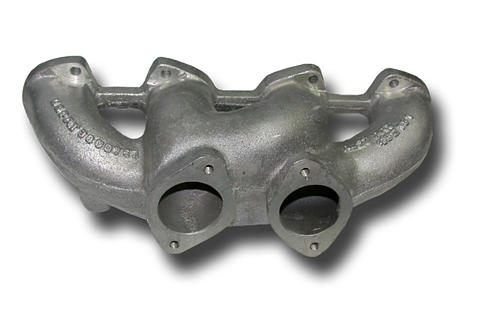 Top View Bottom View
Single side draft manifold for a BMW 2002 or early 3 series. Utilizes our patented Crossover design for even fuel distribution to each cylinder. Where other single carburetor manifolds fail, this one is in a class of its own. Your engine will run awesome... only surpassed by a dual Weber 45mm side draft setup. For your Weber or Dellorto carb to be utilized with this manifold, we can provide you with carb settings (i.e. the ones we used when we dynometered and perfected this setup on our prototype, though your engine may require you to make some changes as all engines run differently and therefore require different carb settings). This is an internationally patented item so you will not see another manifold like this available. We have been producing these manifolds in Australia for over 25 years so the sales volume speaks for itself. Others have tried to copy this manifold but their results are horrible! Buy with confidence as you will be pleased with the performance.
Here is the mechanism by which this manifold works for all those that are confused by the crossover manifold concept... The manifold runners on cylinders 1&4 connect to one venturi (V1) of the carb, therefore cyls 2&3 connect to the other side of the carb (V2). With the firing order being 1,3,4,2 the intake pulse demand from the first cylinder(1) draws mixture from V1 venturi of the carb. The next one demanding a lungful is cylinder 3, which draws from venturi V2. The next one in the sequence is cylinder 4, which draws from the same venturi (V1) as number 1 cylinder and then number 2 cylinder draws from number 2 venturi(V2). You can see that the carb takes turns in feeding the cylinders due to the crossover design of the runners feeding each cylinder a fresh batch of air/fuel from the carb, alternating throats as it goes!
The patented crossover design does just that- it splits the pulses (in firing order sequence) that are created by the downward movement of the piston so as one throat receives one pulse, and the next pulse (in the firing order sequence) goes to the other side of the carb. This way the pulses that the carb sees are evenly spaced, allowing better cylinder filling than the conventional design, hence more power and torque. Holley patented a style of manifold like this for the dual plane 4bbl S/B Chev, as they suffer from the same problem of all the available mixture being siphoned off from one side of the manifold, leaving nothing for the next one in the sequence (The firing order for the Chev is 1, 8, 4, 3, 6, 5 and then the cylinder next in sequence is siphoning 7, then obviously 2).
This is an extraordinary manifold that we back 100%. You will be happy with the unparalleled results. Please contact us if you have any further questions as we would be happy to assist you.
Please contact us if you have any questions on this item.