Multi-Port Kits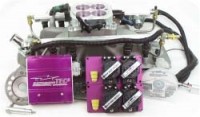 Multi-Port Kits
Electromotive's TEC³ MPI Engine Management Kits allow you to 'bolt-on' the world's newest technology for your V8! Currently available for small and big block Chevy applications, the single plane multiport intake manifolds included in the kits are ideal for street performance as well as racing applications. With the TEC³ (Total Engine Control) management system controlling all engine functions (including data logging), this is the ultimate complete EFI system. Big Block MPI Kits are designed for up to 800HP, naturally aspirated. Small Block MPI Kits are designed for up to 600HP, naturally aspirated. Turbo/supercharged applications are possible as well, using a 2- or 3-Bar MAP sensor.
Electromotive specializes in managing radically-cammed engines that wreak havoc on other aftermarket engine management systems. Our software allows the user to completely eliminate the idle surge common to these applications, without sacrificing power or throttle response.
For competition, no other system will out perform Electromotive, period. For starters, the distributorless, crank triggered, multiple coil, direct fire ignition is the best there is (that's why the OEM's license this technology from us!). This ultra-high resolution ignition integrated with the high flowing manifold, Electromotive's own custom air doors (up to 1600 cfm available!), and Electromotive Performance Fuel Injectors (low impedance), gives the racer a package capable of high horsepower and monster torque that is completely adjustable on your laptop PC. Add nitrous, add boost, no problem. You select your Air Door, Map sensor and Injector sizes, and we will supply you with everything you need but a race car! Dont forget, the WinTEC-3.0 Software features Electromotive's 'Tuning Wizard' that makes first time start-ups incredibly easy. Typical street-based V8's can usually be up and running with less than 15 minutes of tuning effort...and you thought tuning a carburetor was quick! So whether your car is destined for the street, the track or a combination of both, the Electromotive MPI Kit is the perfect choice.
Kits Include:
TEC³ ECU (includes Software/Manual/Com Cable)

8-cylinder ignition coil setup (Two 4-cylinder modules)

High-rise, Single plane, Raised-Plenum (Air-Gap) Manifold (Manifold is cast with injector bosses and fuel rail mounts!)

Complete Fuel Rail Kit w/ Fuel Pressure Regulator

8 Fuel Injectors (additional charge on injector sizes over 37lb/hr)

Airdoor (throttle) (1000cfm for SB, 1600cfm for BB)

All Engine Sensors (Crank Sensor, MAP, TPS, IAC, CLT, MAT, O2)

Custom Terminated Wiring Harness with Relay & Fuse Block
(Harness is 7ft from engine to ECU)

Bolt-On Crank Trigger Kit
SB/BB Oil Pump Drive... PN: 261-72601

Larger Injectors (up to 82lb/hr available)...call for PN's & pricing

Knock Sensor...PN: 305-71410

4-Stage Nitrous Timing Retard...PN: 150-10000
There are no products matching the selection.