BMW E12 Performance Parts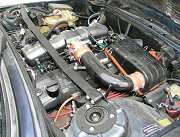 BMW E12 Performance Parts


Just like our famous 2002 and E21 brace but a bolt-in for your E12 530i and 528i. Just like our other kits it is complete with all cables, lugs, terminals, etc... Check it out and order yours today. In Stock ready to go..
E12 Front Strut Tower Brace In Stock. Package pricing for the Front and Rear Brace Combo

New and Rebuilt Original Eqipment Replacement parts for all BMW models. Warehouse Driect pricing.
LOW Price guarantee and FREE shipping... Import Car Parts from your Desktop to your Doorstep

We happen to feel that the E12 chassis is the finest all around car that BMW ever built. It is simple, reliable and it works on every level. Kind of like a big comfortable 2002.
Although largely ignored by the aftermarket these cars seem to have a fairly serious following of die-hard owners. A large percentage of our BMW customers have at least one of these cars stashed around the yard somewhere. Usually as the ultimate reliable back up transportation car. Given that you can buy one for as little as a couple of hundred dollars on up to a max of about 4K these cars are an incredible value. The quantity of them sitting in dismantlers makes the used parts supply fairly simple while BMW is still supplying almost everything new.
Suspension mods are very straightforward and all the usual Springs, Shocks and Sway bars are available as well as coil-overs and camber plates for you more track oriented folks. (call or e-mail for pricing !!)
Engine work is the same as any big 6 and the sky is the limit. Simple cam grinds or High Compression big bore forged pistons to complete engines. We offer programmable Fuel Injection and Igntion management systems for those of you looking to get a little more modern or just modify the engine beyond the capability of the stock L-Jetronic system.
Our High-Flow intake pipe with 3" K&N coupled to a Bosch adjustable pressure regulator has been a very popular upgrade. A nice increase in airflow with an adjustable fuel pressure reg to compensate for the extra incoming charge. $199.00 for filter, pipe and regulator. Simple Bolt-On installation. Buy It Now
In the cosmetic dept we do supply a very attractive and affordable fiberglass front air dam. 2 piece design in a black gel-coat finish ready for joining and paint. $149.00 + $15.00 ground shipping. Buy It Now