240Z-280Z Car Front Ultimate Strut Tower Brace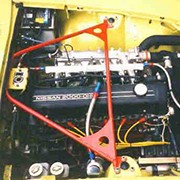 Z Car Front Ultimate Strut Tower Brace
A Strut Tower Brace for a Z car that actually works. We have been making this part for more than 10 years and I will admit to being terrible about marketing it. This part looks great, fits great, and above all, Works great. Triangulated structure eliminates strut tower twisting. Unlike the other crappy braces on the market this unit will stop movement of the strut towers in all directions.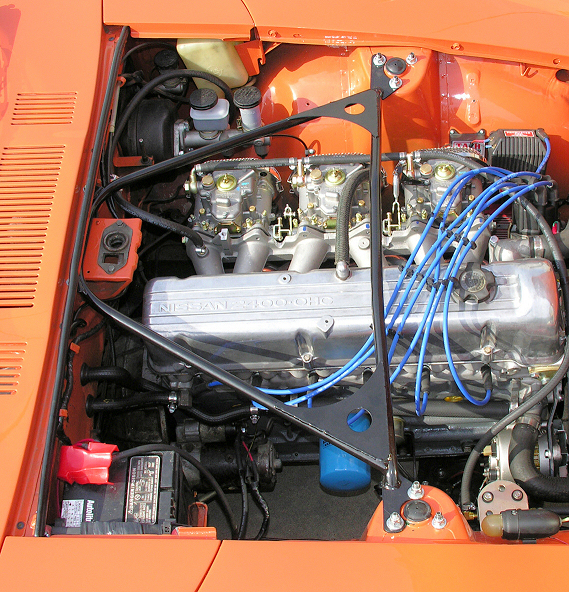 Note the 2 bolts in the channel where the hood closes...
This is where the tabs slip under to tie the brace to the firewall.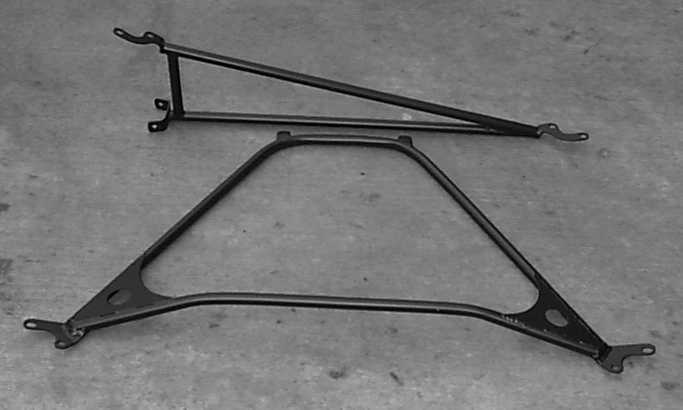 Front and Rear 240Z-280Z braces


Available for 240Z - 280Z - and Front ONLY of 280ZX Turbo

Front and Rear Available for 240Z - 280Z
No Rear for the 280ZX. Front Only for ZX. $239

Lightweight Tubular Mild Steel construction.
Great for...
Autocrossing Road Racing

Street driving
My installation tips.
The Tabs go UNDER the lip of the hood rail on either side of the hood latch. That is the only way it will fit…After it is installed you drill through the hood channel and tabs and bolt it in place with the supplied hardware.

Due to the age of these cars and the fact that none of them are dimensionally the same as when they were new there will always be slight tweaks needed to fit the brace.
Normally all that is needed is to just fit the brace over the studs and tap it with the palm of your hand on each side until it slips on…

If the car is tweaked a bit more than that , remove the 6 Nuts holding the struts to the strut tower. Jack up the car until the studs are just flush with the strut tower which allows the brace to sit flush on the towers. Let the car back down allowing the studs to come through the holes tapping lightly as needed to fit the brace.

In some extreme cases the 2 on each side mounting holes will need to be slightly enlarged…This is ONLY if a car is really out of shape and off by more than 1/16"…To answer the next thing you are going to ask….We do not make the holes larger to start with because on a perfectly straight car it is not needed…We consider this to be a structural part and as such want it to fit tightly and with minimal slop or chance of movement. The holes can always be drilled out a little bit but it is not easy to make them smaller. That is the entire theory behind the triangulated brace. Not only does it look excellent but it should be structurally rigid and hold the car in place throughout all ranges of motion.