Cylinder Heads and Components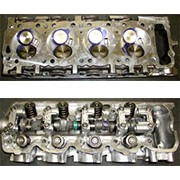 The #1 source in the world for 2.6 Performance engine, components and accessories
| | |
| --- | --- |
| | |
Mitsubishi 2.6 New Cylinder Heads (and components.)
(Turbo Starion and Conquest...Montero..Raider..D50)
We offer the widest range of cylinder head replacements and performance upgrade options for the 2.6 Mits engine in the world......No matter if you have a Starion or Conquest, Montero, Raider, D50, or B2600 we have the right head to fit your needs....
Anyone that has been working with the 2.6 for any length of time know the cylinder heads were always the weak link...They crack...More so on the Turbo cars but the trucks were not immune to the problem...One bit of overheating and they cracked...For years we, as well as many other shops did crack repair on these heads and it was marginally successful....but expensive and they generally would just crack again in a different cylinder a while later...The major culprit in this problem is the Jet Valves and the steel shroud in the combustion chamber that housed them....This piece was a throwback to the emission control frenzy of the 70's and is no longer needed to pass Smog Inspections...This steel sleeve in the chamber gets extremely hot and transfers that to the weak area between the seats causing them to crack over time....A few years ago we started supplying a new Non-Jet Valve casting made from a better alloy with extra cooling passages and a stronger thicker area between the seats. Although you can still crack one of these new heads you have to really put some effort into it...This is NOT THE CARAVAN HEAD...it is a heavy duty casting designed to cure the problem on the 2.6 Turbos and Truck line....
We get asked all the time for the Jet Valve Eliminator kits for the 2.6 and we do offer them ($59.00)...They simply screw into the stock jet valve location and block off the passage but they do not eliminate the steel shroud in the chamber that causes most of the problem.....If you are stuck using a jet valve head these eliminators are still a good idea..but it is by no means the same thing as having a TEP Non-Jet casting....This is the head we use on all of our performance engine build ups. We will never use an old head on one of our performance engines....