Performance Parts Packages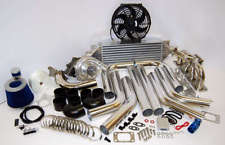 Performance Parts Packages:
Street Engine Rebuild Package $ CALL Please 1 818 764-1901

4 New Hypereutectic Pistons. ( Std, .030, .040 over )

Balance Shaft Eliminator kit

Timing Component Kit for use with balance eliminator

Clevite 77 rod and main bearings

Heavy Duty Valve spring set
-----------------------------------------------------------------------------
Drag Race Engine Rebuild Package $ CALL Please 1 818 764-1901

JE Forged 8.0:1 .040 over pistons

Clevite 77 rod and main bearings

Head set and Lower End Set

Balance Shaft Eliminator kit with timing component kit

NEW TEP Non-Jet Valve Bare Head Casting

TEP camshaft upgrade with H/D valve spring set
---------------------------------------------------------------------------------
Ultimate Performance Packages

No Stages, No Compromises, No B.S. This is the finest power package you can install on your Starion or Conquest. This combination of bolt on parts and exhaust components is specifically designed for 88-89 (Or 87 with Upgraded ECU ) Starions and Conquests **. This package will give you the maximum HP available in an otherwise stock engine. If your engine is old, worn out, smokes like a freight train, has low oil pressure, knocking balance shafts, etc, this package is not for you until you freshen up the engine. This combination is capable of 325 hp in a good running stock fuel system Starion / Conquest with forged pistons.
As

with every upgrade we offer you need to make sure everything is in good working order before you proceed with it. If you have a good running, non-overheating, no stumbles or stutters car that you want to drive out to the drag strip and run at least a Mid-13 mile ( Maybe even better ) this is the system for you.
Complete T3/T4 Hybrid Turbo Conversion Package

New T3/T4 Hybrid Turbocharger.***

Internal Wastegate Swingvalve Assembly.

Dual Port Wastegate Actuator.

Steel Braided Oil Feed Line and Water Line Kit.

2.5" Downpipe with 3 wire 02 sensor.

3" Inlet pipe from Turbo to Mass Air Sensor.

Other Components

TEP Camshaft Upgrade. New Billet camshaft.

2.25" Over The Valve Cover pipe with TurboXS Racing Bypass Valve.

Intercooler Upgrade. Spearco 3.5" Core. Bolt in unit with needed plumbing.

Mandrel Bent Intercooler Plumbing kit with Silicone Couplers.

K&N Air Filter for Stock Air Box

2.5" High Flow Catalyst for under car****

3" Walker Mega-Flo Rear muffler and 3" Chrome Tip.****
Complete package: One big bundle of HP in a cardboard box. No Longer Offered...

** Yes it can be used on a 1986 but due to the poor fuel volume on these cars it will be mandatory to use our AIC system to insure adequate fuel volume. Add $750.00 to kit price for AIC kit.
*** Ceramic Ball Bearing Turbo Upgrade. Add $525.00
****Does not include piping. You have the 2.5" pipe installed locally from our Downpipe back.