Pauter Rods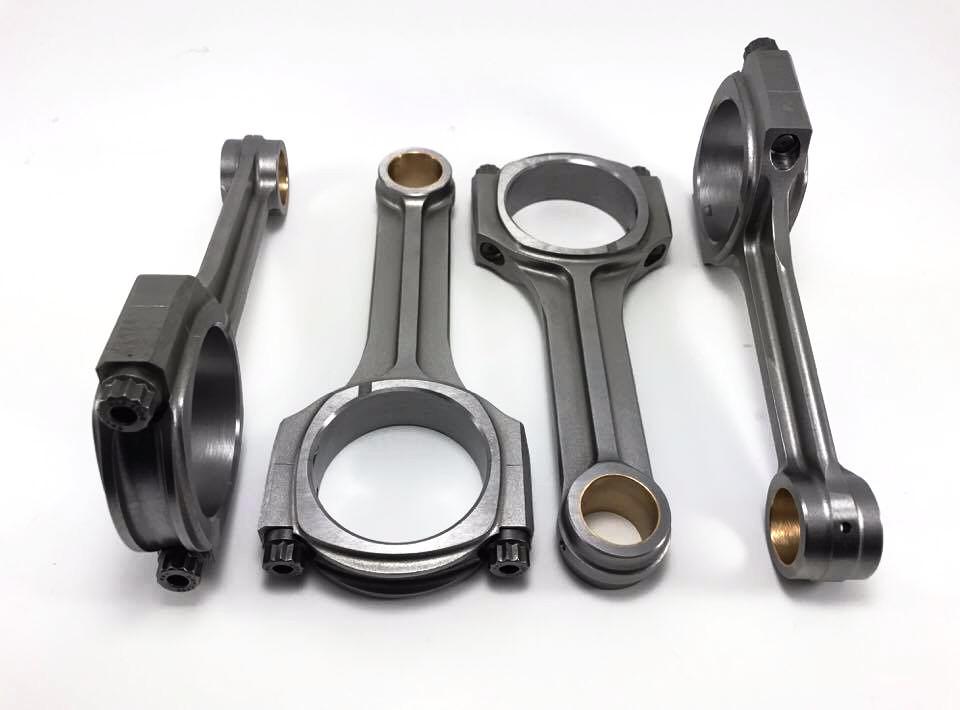 Top-End Performance is proud to be able to offer the complete line of Pauter Forged 4340 Steel rods, Aluminum Rods and Custom made Titanium rods for your Import Engine... These are the best Forged rods that you can buy for your Import performance engine. Usually In Stock for popular Japanese and European engines. Custom rods made to order for any engine. Sample rod may be required for custom orders.
Need Aluminum Rods? We make them custom for any application. Click here to order

Need Titanium Rods ? $1250 PER ROD Contact us about these.
This is our unique single rib design E- 4340 chrome-moly forged rod. This rod is available for import, domestic, and now motorcycle engines. Overall, the clean, windage-reducing design and strength of these Pauter rods has proven to be extremely popular with racers, and their consistent high quality and excellent finish has resulted in many satisfied customers. We now offer these rods in three weight categories to accommodate varying horsepower demands.
4340 BILLET RODS Different - by Design
Years of hands-on experience, working with rods of all shapes and materials, of all types of racing and racing-related abuse, with design failures (and successes), has resulted in a fairly comprehensive file on just what works - and what doesn't - on the subject of high performance connecting rods. From this body of knowledge we have selected and incorporated the elements into what it is we think a great rod should be. Right off, our rod looks different, that's obvious, but for some not so obvious and very good reasons.
For starters, the simple beam design completely eliminates thin and non-uniform cross sections over the total length of the beam. This feature greatly improves resistance to crack-induced metal fatigue. In addition, the non-tapered profile of the beam helps to spread potentially harmful stress over a larger area, dispersing instead of concentrating these destructive loads. The design also efficiently places needed material in critical transitional areas, giving maximum support exactly where it is needed (such as directly under the wrist pin). The streamlined contour also provides subtle benefits in the form of windage reduction and breather/catch can function (so our customers tell us). The main beam rib itself continues around the wrist pin boss, perfectly integrating the beam to the pin boss, a small, but important contribution to overall structural unity. Pauter rods are indeed, different by design.
If you don't see what you want, we can build custom rods for any application.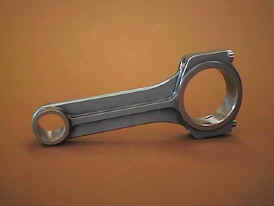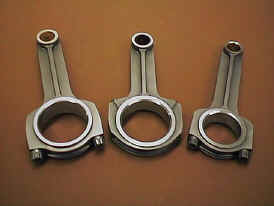 NEW !
Pauter Aluminum Con Rods. Available for Toyota 2JZ, EVO, Subaru, Cosworth, Ford and Chevy and many more.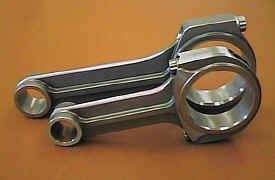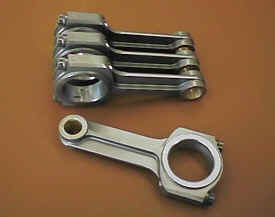 Shown above left, a Chrysler rod and a 911 Porsche rod. All Pauter rods use 220K psi tensile strength bolts or optionally, Series 625 quality high tensile rod bolts. The Porsche rod has stiffening flares on each side of the bolt spotfaces to compensate for the material removed to accommodate the reverse facing bolts. Above right, a set of four Toyota 4-AG rods. All of our Chrome-Moly rods are heat-treated to R/C 34-36 and full-coverage shotpeened. Rods are end to end balanced in sets and then final sized on the big end.

Above left, a 6.8" Chrysler 440 rod next to a 4.8" Toyota rod. This photo shows the full range of sizes we can produce from our forgings. Sizes outside of these limits are made from solid bar. The rod in the center photo is a 5.8" lightweight small block Chevy rod, while the one on the right is our open motor small block Chevy rod (6.0"). The lighter rod is approx 50 grams lighter than the open rod. This figure will vary depending upon rod length and profile. In some instances, builders are using import journal sizes and bearings (e.g. Honda) on domestic V8 & V6 engines in order to reduce big end size and total rod weight substantially. We can and do furnish such hybrid rods on a regular basis. In some cases it may be necessary for the customer to furnish a sample rod, rod bearing set or wrist pin.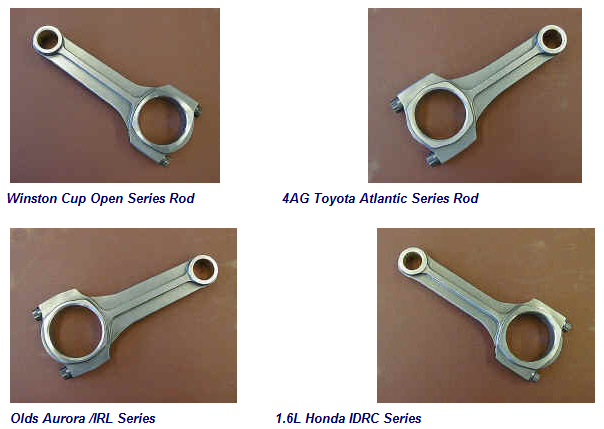 All rods come standard with precision rod cap alignment sleeves pressed into the rod body to accurately and repeatedly locate the cap, restrict split line creep and maintain bore concentricity. All rods are manufactured with aluminum bronze wrist pin bushings unless no bushing is specifically requested. Rods can be ordered with upgrade bolts if desired (

this extra cost option must be coordinated with our tech department in advance

). Direct pressure fed pin oiling (rifle drilling) is also an extra cost option but

must be requested at the time of order

. Rods outside our forging limits will be machined from the same material in solid bar stock, but will not follow normal pricing and delivery figures quoted in this web or other Pauter literature.
Custom versus off-the-shelf thinking
Our usual policy as to in-stock and custom built rods is a bit different from other manufacturers. We gear our production towards the custom, made-to-order end of the spectrum, stocking only a few "popular" sizes. From both the manufacturer's as well as the customer's point of view, this policy has its advantages. Even in identical situations, two different builders will often have differing ideas as to optimum rod specifications. Multiply this example by the myriad forms, classes, even sub-classes of racing out there, and custom parts in reality become the norm instead of the exception. We acknowledge this, and our rod program is geared to provide a high level of custom service as standard practice. We are CNC and CAD proficient, all tooling and production has been streamlined to handle one-offs as easily as multiple quantity orders. The upside is that any set of dimensional specs are OK, and turnaround on our chrome-moly rods is usually 4 to 5 weeks from the original processing of your order. Costs to you are the same, unless upgrades such as special bolts or non-production processing are requested. On-shelf items are as stated above, limited to a minimum number of popular repeat sizes.
For our 4340 billet rods, we have three different weight categories for any one particular set of length/big bore/pin bore specs. These are: standard, lightweight, and restrictor styles. Lighter is not always better. Our tech department can assist you in the selection of the correct weight for your horsepower/rpm requirements. Visually, these rods are all quite similar in profile, and generally only by close side by side comparison (and a gram scale) can the small differences be discerned.