PAUTER FORGED 4340 CONNECTING RODS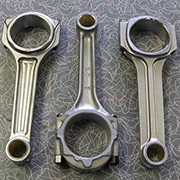 Starion / Conquest G54BT Forged Connecting Rods
We offer 2 different brands of 4340 Forged Con rods for the Mits 2.6. Both are very strong and more than 5 oz's lighter than the stock rods. Either rod will hold up to 200 HP PER ROD so you are safe no matter what modifications you do to your engine for Street or Race.
Note: We NO LONGER Carry the PAR Rods. Only the Pauter Rods. Due to Quality Control Control concerns and an increase in shipping costs it is more cost effective to only offer the Pauter rods. They are IN STOCK to ship.

$895 Each + $20 Ground Shipping
(Lower 48 states only. Alaska, Hawaii, and International orders pay actual shiping charges.)

Left is the PAR Billet Rod
Center is a Race Prepped Stock Rod
Right is the Pauter Forged Rod
We have both the PAR and Pauter rods in stock



All contents on these pages 1998-99 by Top-End Performance and Steve Nelson. No portion of these pages may be reproduced or re-published in any form without the express permission of Steve Nelson and Top-End Performance. This does not include links to other pages and downloads for personal use. We encourage that. In other words... Don't bag the pictures and text and put them on a site or in a sales or service catalog or otherwise pretend that they are your own.