Weber Carbs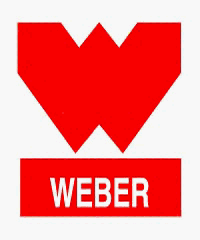 Hello and Welcome to the Very Best Weber Carb Source Online....We have been selling, Servicing and Tuning Weber carbs for more than 30 years. We know what we are doing...

We have everything you need for a NEW Weber Carb Purchase or to Support, Rebuild or Tune your Existing Carbs.
NEW Genuine Made in Spain Weber Carbs
Redline Weber Conversion Kits for 4 and 6 Cyl Import and V8 Applications
Air Filters, Rebuild Kits, Jets, Tools, Books and More.
These pages are in Invaluable Resource for All Things Weber.
Very Easy to Search and Navigate. If at any time there is something you cannot find or are confused about Please Contact Us

URGENT
We ONLY Sell Genuine Made in Spain Weber Carbs. If the Carb does not have Made in Spain Cast in it is not a Genuine Carb !