Lotus Elan M100 Turbo
Lotus Elan M100 Turbo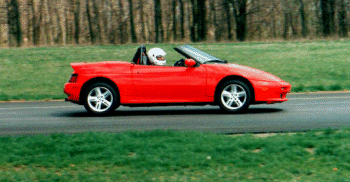 Special Package Pricing
Turbosmart Blow Off valve and Inlet pipe
High Flow Inlet pipe with 3" Inlet High Flow Cone Filter.
Manual Boost Controller (TurboSmart Brand)
Gloss Black Powder Coat
Pipes powder coated in custom color (Anything besides black..) $120.00 for the set.
$595 ORDER NOW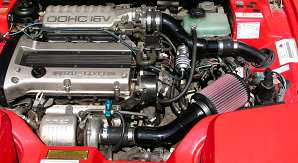 TurboXS Boost controller $89 ORDER NOW This is much better than any of the Bleed type Boost Controllers that are currently being used.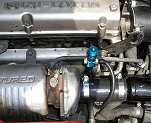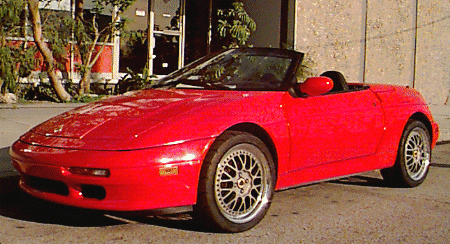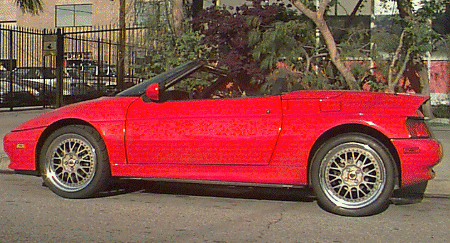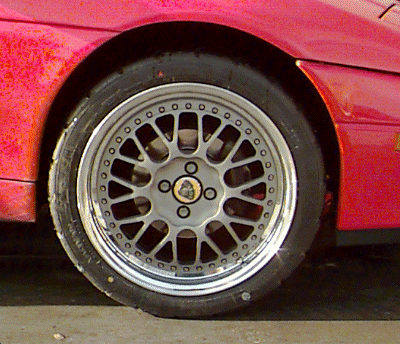 Seamus
Blackley's 1991 Lotus Elan
Latest addition: 17" x 8.5" KINESIS Motorsport wheels with 235-40-17 Yokohama A032R tires and all the other stuff you see pictured below.

Yes, we really are going to do a bolt-on 4 piston caliper, big vented rotor brake upgrade. If only because these wheels warrant it. The stock rotors look silly stuck in these big old things.
This car will be featured in one of the next few issues of Turbo and High Tech Perfomance Magazine.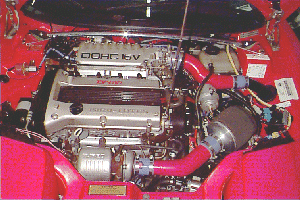 We didn't really set out to develop parts and for these cars. One of our friends and good customers decided in addition to his brutally fast BMW 2002 Turbo that he needed a "REAL" car that would keep his girlfriend happy on those romantic weekends away. You know, one with A/C, Good heater and defroster, and all the creature comforts. So he decided to buy a convertible English car. To his credit it did turn out to be a pretty cool ride. The blend of Japanese technology and Lotus tuning has made a very fun and reliable car. Purists may snub their noses at it but it is a sure bet the Isuzu powered Elan will always start, run, idle smoothly and deliver a ton of fun without any of the hassles normally associated with English Roadsters.
The first order of business was to make more HP. The easy way to do that is with MORE BOOST. Since it is a well developed factory Turbo F.I. and Ignition system we felt there was no problem in raising the boost with the stock programming as long as we gave it a bit more fuel. We use a specially tailored adjustable boost dependant rising rate fuel regulator. It raises the fuel pressure based on the amount of boost to always keep you at a safe air fuel ratio. We offer this as a Bolt-On Kit with brackets, hoses, Manual Boost Controller,instructions, etc.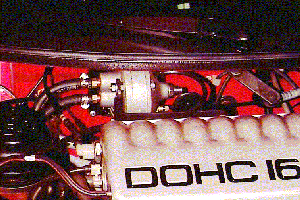 Pressure Regulator Kit $335.00 Order Now

The air filter box is a pretty okay part even though it looks like a little garbage can. The inlet from the box to the Turbo however is terrible. Lumpy accordian hose is not the key to smooth airflow. Our Inlet pipe replaces the stock box with an open element K&N air filter and an even higher flow pipe. The open element filter gives a bit more intake sound and flows about 10% more than the closed box. Pipe is Gloss Black finish. The unit pictured was painted red per the customers request.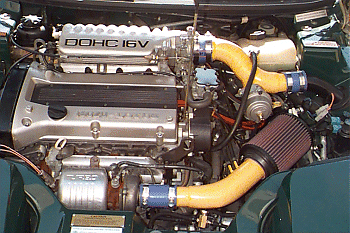 K&N filter with high flow inlet pipe $229 ORDER NOW
This is Doug Abbott's Green Elan. Doug has the Superchips upgrade, Air filter pipe with K&N and the Plumbing / Bypass Valve kit.
Now that you getting more intake air and boost pressure there are a few other pieces that are deficient. The Silicone hose that comes from the throttle body to the intercooler pipe is livable at 5-7 psi boost but expands like a balloon at 13-14 psi.The other problem is that when you lift off the throttle to shift the boost pressure in the system backs up behind the throttle plate causing a hellacious spike in the intercooler plumbing ( As much as 20+ psi )which stalls the Turbo in between shifts. This is very bad for the Turbo. When the boost spikes, it tries to drive the compressor wheel back through the turbo causing terrible wear on the shaft bearings.To cure this problem we install a Compressor Bypass ( Often incorrectly called a Blow-Off valve. ) It opens under vacuum blowing off the excess boost and allowing the Turbo to stay spooled whenever you chop the throttle or shift. This translates in to better acceleration between gears and longer Turbo life.We have incorporated the cure to the expanding intercooler plumbing and the bypass problem into one easy to install plumbing package. Mandrel bent hard plumbing pipe from throttle body to intercooler pipe with an incorporated adjustable Compressor Bypass Valve. Simple bolt-on unit with a screwdriver.Pipe is Gloss Black. The unit pictured is red per customers request.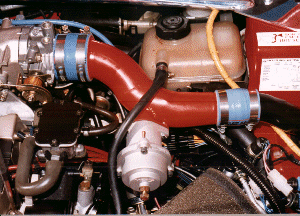 Plumbing and Bypass Valve Kit. $395 ORDER NOW

For those of you with a real Speed Jones we can do some serious Turbo upgrades. We are hoping in the next year to be offering a Garrett T3 conversion as a bolt on kit. For now we are doing them in-house on a per vehicle basis.Call for pricing and options. Other items in the works are...
Bolt on High-Flow exhaust system.

Auxilliary Injector System

Programmable Engine Management Kit.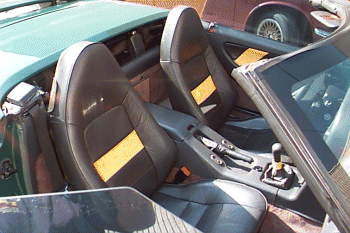 This is the interior of Doug Abbotts Green Elan. For those of you that might want some of the proper Lotus Yellow Leather, Doug does have a supply left over.