Rear Shock Tower Braces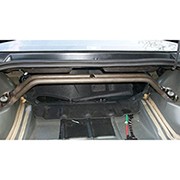 2002 Front and Rear Ultimate Strut Tower Brace and Battery Relocation kits.

This is THE brace for the front of your 1600-2002 and 2002 Tii...
Yes it clears the Tii manifold with no problem...
Triangulated design offers the ultimate in strength and chassis stiffness.

No more stress cracks in the corners of the strut towers

or core support

Incorporates the Engine Torque brace into one easy to install package.

Engine torque brace keeps the engine from bouncing around on the soft mounts and keep the drivers side engine mount bracket from breaking.

New engine mounts will now last for MANY years with no loss of stiffness.

No vibration is transmitted to the chassis.

Smoother faster shifts with engine not moving around under load.